I was so excited when Shawn forwarded me the 12 Free Thank You Notes promo from Shutterfly! I immediately knew exactly what I wanted to use them for.
Lauren's big 5th birthday is coming up and it's her first real friends party. She is getting so big and loves writing notes to people so I thought it would be perfect to use the thank you cards for her to send to those who get her gifts!!!!
Saying thank you is very important to me and I want my kids to grow up with thankful hearts. I feel like starting them young is a great way to imbed in them this character trait!
Okay...SPOILER ALERT for anyone reading this who might happen to get one of these darling photo cards in the mail. :) Isn't she the most beautiful thing ever!? I'm biased I know.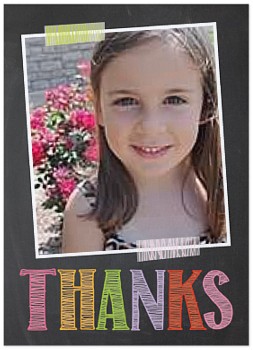 3x5 Folded Card
View the entire
collection
of cards.
Hop over to Shutterfly to grab your own set of cards! You will have to pay shipping, but mine was about $4. :)